Difference between 'Manual' and 'Advantage Plus Placements' on Meta (Facebook) Ads
Platforms vs Placements
Let's start by clearing your confusion regarding platforms and placements aross Meta Technologies.
Platforms
Platforms on Meta are the different places where your ads can run, such as Facebook, Instagram, Messenger, and Audience Network.

Facebook
Facebook is the world's largest social networking site, with over 2.9 billion active members. On Facebook, companies may run advertisements in a number of different forms, such as picture advertising, video ads, carousel ads, and slideshow ads.
Instagram
Instagram is a picture and video sharing platform with over 2 billion active users. Instagram offers a range of ad forms for businesses, including picture advertisements, video ads, stories ads, and reels ads.
Messenger
Messenger is a messaging application that has around 3 billion users. In the form of sponsored messages, businesses may run advertisements in Messenger.
Audience Network is a mobile ad network from Meta that allows publishers to monetize their apps with ads from global Meta advertisers. It is a network of over 500,000 mobile apps and websites that partners with Meta to show ads.Audience Network makes advantage of Facebook's targeting capabilities to provide relevant adverts to people even when they are not on Facebook.
Placements
Placements are the specific locations where your ads appear on a platform. For example, on Facebook, placements include the News Feed, Marketplace, right column, and in-stream videos. On Instagram, placements include the Feed, Stories, or Explore tab.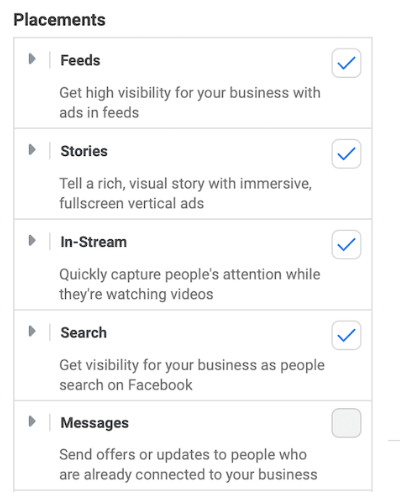 Feeds:
Feeds are the main pages of Facebook and Instagram where users can see posts from their friends and the Pages they follow.
Stories and Reels:
Stories are brief films and pictures that vanish after a day. Short, looping movies called reels have a maximum runtime of 90 seconds.
In-stream ads for videos and reels:
Video advertisements known as in-stream commercials appear before, during, or after other videos.
Search results:
Search results are the pages that appear when users search for something on Facebook or Instagram.
Messages:
Messages is the private messaging feature of Facebook and Instagram.
Apps and sites:
The third-party apps and websites that are among the members of the Facebook Audience Network are known as apps and sites.The third-party apps and websites that are among the members of the Facebook Audience Network are known as apps and sites.
Read More: How to improve your Google Ads For business
How to Choose the Right Placement?
If you run Meta ads, you're probably already familiar with the platform's many ad settings and possibilities. Every stage of the setup process for Facebook advertisements allows marketers to modify them, from picking the ad's objective to selecting the location where it will appear.
Ad placements on Meta refer to the various locations where your advertisement may appear. Facebook, Instagram, Audience Network, and Messenger are just a few of the platforms where there are a total of more than 15 ad placements.
At the level of your campaign's ad set, you select your placements. Which ad placements you can employ will depend on your campaign's goal.
1. When to select automated placements?
Automated placements provide Facebook's delivery system the ability to allocate your ad set money in line with how well those placements perform across all of Facebook's platforms.
Facebook's algorithm aims to provide you the highest audience optimization and the lowest CPC among all of the available slots. Facebook will thus direct more of your funds towards adverts that are performing well in a certain location.
Because the Facebook algorithm is focused on ad optimization, we recommend employing automatic placements when you first start running Facebook adverts. You might then learn more about the effectiveness of your advertising by platform, device, and location.
2. When to select manual placements?
With manual placements, you may pick the Facebook platforms where your ads will appear.
We recommend starting with manual placements once you've mastered Facebook ad campaigns and analyzed data from prior ad performances utilizing automatic placements.
To maximize your money and your chances of reaching your target audience, you should use a range of placements.
Read More: How to Advertise on Reddit | Complete guide for users & Advertisers
Manual vs. Advantage+ Placements
Manual and Advantage Plus have their own set of benefits. The need is to analyze your requirements, your expertise, and other essential factors that may affect your campaign. The following recommended considerations may be helpful in this situation and enable you to select an ad placement strategy that aligns with your objectives. Before making a choice, think about the following factors and align your course to achieve better results at the lowest cost.
A. Advantage+ Placements
Advantage+, formerly known as Automatic Ad Placement, is a Meta (Facebook) ads feature that automatically distributes your adverts without your intervention.
This option is frequently chosen by newcomers since it is simple to use and lets them reach more people on a small budget. Advantage+'s placement option offers a more "set it and forget it" mentality. As a result, ad placement expertise is not required.
With Advantage+ placement, the platform takes care of everything and automates the procedure for a hassle-free ad campaign experience.
1. Quality vs. Quantity
When you use Advantage+ to conduct a Facebook ad campaign, the platform makes the most of your cash to encourage a certain action while hardly taking quality into account.
For instance, if you use Advantage+ to conduct an advertising campaign to increase traffic, the platform will optimize the campaign to bring in more customers at the lowest possible price. However, the audience your advertisement draws could or might not be pertinent.
The manual option, on the other hand, gives you the flexibility to customize your ad placement and pick media that have a high chance of attracting the target demographic.
2. Variation Testing
When you pick the Advantage+ option, the distribution of your advertisement on the pre-selected placement mediums begins immediately.
To improve your results, the platform continuously adjusts your campaign and takes into account what it has learned. However, it hinders experimentation and denies you the chance to test multiple variants of your advertisement in various locations.
For that, you might have to think about manually modifying your placements and tailoring your assets, such as the text or graphic material in your advertisement.
It may seem like a tiresome procedure to test many iterations of your adverts with various placement possibilities. However, it guarantees the best possible budget utilization and aids in improving your outcomes.
3. Focused Targeting
You can manage your advertising campaign with ease with Advantage+. You give the platform control over optimizing your campaign and choosing the most appropriate distribution channels.
While it could be advantageous for freshmen, it might be detrimental for an experienced advertiser.
You can't benefit from identifying the desired audience profile(s) and choosing the best placement channels. You might want to think about removing some placement substitutes from your advertising campaign if you want it to work effectively since they might not yield results that reside up to your expectations.
Therefore, compared to Advantage+, manual placement may be an improved placement approach for you.
3. The Human Touch
With 1.95 billion active members, Facebook is one of the most popular social media platforms for advertising. Facebook is used by businesses all across the globe to handle their advertising campaigns, and the network is constantly improving its ad distribution based on data from international campaigns. But, Facebook might not be as familiar with your audience and business as you are. Therefore, to obtain better results and save cost, it is sometimes required to manually arrange your adverts.
B. Manual Placement
On the other hand, the manual placement option enables you to personally select the platforms, such as feeds, stories, marketplaces, etc. where you want your advertising to be shown.
With the manual placement option, you are in control and may adjust your targeting techniques. Here, you solely make use of the placement strategies you feel will help you reach your target audience and are relevant to your specialty.
Therefore, compared to Advantage+, manual ad placement appears to be a superior alternative.
1. Enhanced Exposure
Businesses may bid on ad placements in Advantage Plus campaigns for certain keywords, demographics, interests, and behaviors, ensuring that their advertisements are seen by the appropriate people at the right time. This improved visibility can lead to greater click-through rates and conversions, resulting in increased income for businesses.
2. Improved Targeting
Advantage Plus campaigns provide companies the opportunity to utilize the enormous volumes of user data that are readily available on social media to develop highly specific marketing. Businesses may target specific audience groups based on factors like age, region, hobbies, and behaviours to ensure that the most relevant audience is exposed to their adverts.
3. Better ROI
Businesses may more effectively spend their advertising budgets and increase ROI using Advantage Plus campaigns. Businesses may increase the effectiveness of their advertising efforts and more effectively accomplish their marketing objectives by combining the advantages of traditional and digital advertising techniques.
Read More: The Ultimate Guide: 10 Technical SEO Tips to Skyrocket Your Rankings
Manual or Advantage+ Placements? Which is Best?
Compared to Advantage+, manual ad placement appears to be a superior alternative. But, the disadvantage of selecting manual ad placement is that it can cost more money than automatic ad placement.
Facebook further advises marketers to use the platform's automated default settings. Therefore, choosing the ideal strategy for ad placement might be challenging.
Pros of "Manual Placement"
Manual Placement option gives an advertiser freedom of making micro changes to the campaign, thus providing more control.
This may occasionally deliver greater results than automatic placements, especially if you are aware of the locations where your target market is most likely to be active.
Cons of "Manual Placement"
Manual Placement option may limit your audience.
It may also lead to false decisions of choosing best placement (an advertisers can miss-manage and choose a particular placement, assuming it is the most valuable placement, which may actually not be).
Pros of "Advantage+ Placement"
The goal of Facebook's algorithm is to maximize conversions while maintaining a low average cost overall, not the lowest average cost for each placement.
If you notice that the average CPA on Facebook Feeds is lower than on Instagram Stories, you may want to pause your Instagram Stories ads and place more of them on Facebook Feeds.
However, Facebook will take into account all opportunities across all placements and select the least costly ones, disregarding what the average CPC for each placement will be.
Thus, Facebook's algorithm is not trying to minimize the average CPC for each placement individually. Instead, it is trying to minimize the average CPC for your entire campaign across all placements.
Cons of "Advantage+ Placement"
Facebook wants to give you the most actions you ask for at the lowest cost, even if those actions are not of high quality.This is particularly valid for top-of-the-funnel and surface outcomes like link clicks.
Facebook may push your budget to placements that give you more of the actions you want, even if those placements are not the best for your business.
Facebook optimizes for actions, not quality, leading to a wasted budget.
Conclusion
Both automatic and manual placements have their advantages and disadvantages.The ideal strategy for you will be determined by your individual needs and goals.
Manual placements may be a smart strategy to boost your performance if you have an adequate understanding of your target audience and where they are most likely to be active. However, if you are new to Facebook ads or do not have the time to manage manual placements, then automatic placements may be a better option for you.
To determine which placement option is best for you, analyze important campaign metrics such as cost per action and sample size. Use the Breakdown by Placements feature to identify placements that are not performing well and make necessary changes.