How to improve your Google Ads For business
Google Ads for Business
Google Ads is a descriptive name used for Google's pay-per-click (PPC) program, that permits businesses to gain visibility across Google's sites. The search ad is the most frequent category of Google Ads, featuring on the SERP for queries related to the advertiser's products or services.
Businesses, on the other hand, can employ Google Ads to run search ads, display ads, shopping ads, YouTube ads, and a variety of other kinds of ads that can create and show advertisements on the internet using Google Ads. Google owns a 28% market share of the online advertising industry.
In this article, you'll learn how to tackle different problems that are hindering your Google Ads from performing well and what ways can be employed to effectively counter the errors. The following strategies may prove useful to optimize any Google Ads campaign for business:
Myths of raising budget
Regular analysis, maintenance & weekly optimization
Keywords effectiveness
Resolve conversion issues
Create new responsive search ads(RSAs)
Evaluate your search terms regularly
Customize the ad extensions
Personalize your campaigns for each rival
Myths of Raising Budget
The performance of a Google Ads campaign can be affected by a wide range of parameters, and budget is merely one of them. The efficacy of your advertisements, the intended audience of your campaign, and the degree of competition in your industry are additional aspects.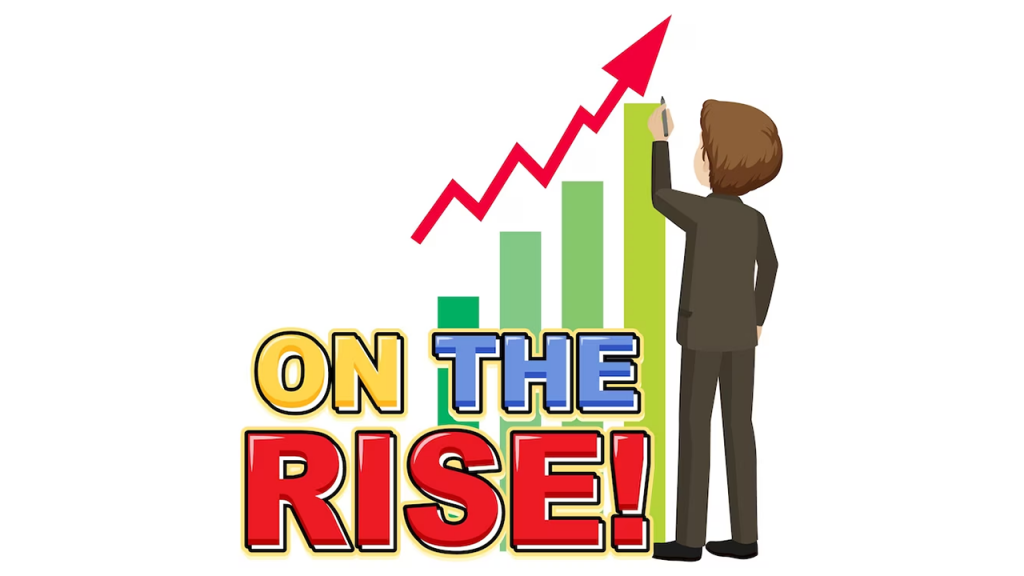 Your Google Ads campaign's effectiveness can be improved by adding a further budget, but only if your campaign is already well-optimized and limited by budget. Simply raising your spending won't do anything to boost your outcomes if your campaign is not optimized.
Raising your budget on rare occasions may be a smart move, for instance, you may acquire more visibility if you are carrying out a seasonal campaign. However, it is critical to ensure that you are raising your budget for the appropriate reasons and not just throwing money at a failing campaign.
Budget Management
And if we are discussing the budget's myths, let's talk about another significant facet of spending your money which is all about How to regulate your expenses on Google Ads!
We have to get a little smart in terms of analyzing the Google Ads account in order to determine whether to boost your budget or not.
The following instances may serve as a signal to cut your spending while increasing your profit:
Your intended audience is being reached. You might be able to lower your budget and still reach your target audience if the right people are seeing your advertisements and clicking on them.
You are reaping the benefits, if your Google Ads campaigns are giving you a strong return on your investment, you might be able to cut your spending and still generate a profit.
Your campaign is smart enough to reduce your budget while maintaining performance if your campaign has been operating for some time and has been optimized to reach your target demographic and generate conversions.
Following are the results of reducing the campaign budget for our client.
Before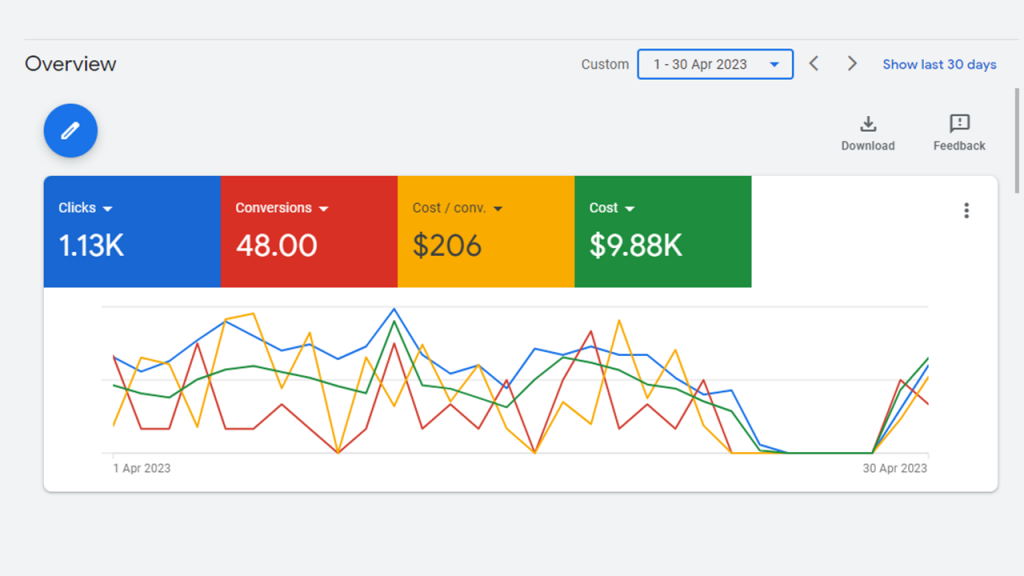 After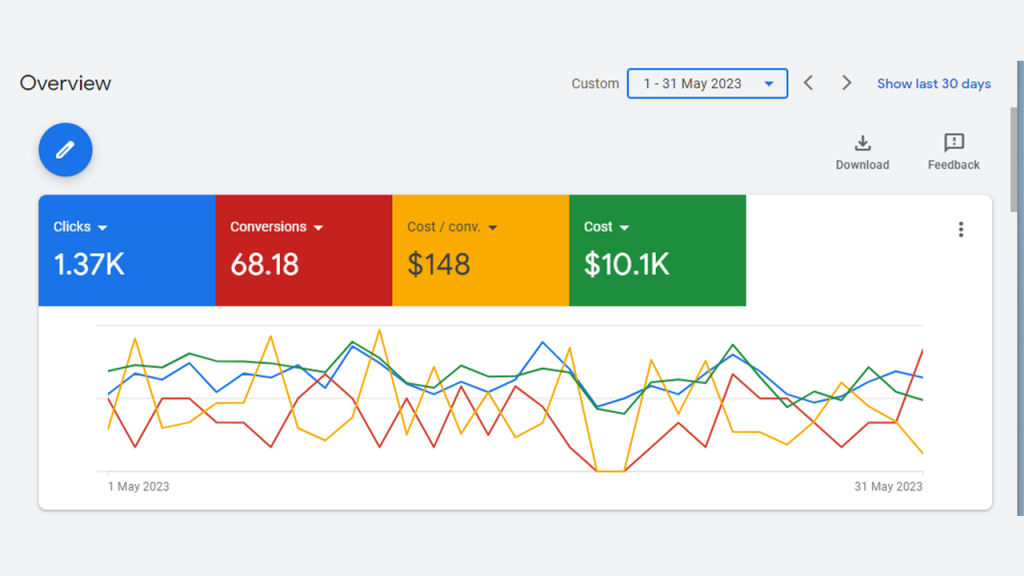 How to Improve Your Google Ads for Business?
There are various reasons why an advertisement may or may not be productive. But in most instances, it's all down to incorporating the appropriate keywords at the appropriate times. There is no precise science in this. Furthermore, there is no shortcut to a truly successful Google Ads campaign. You can try multiple methods to enhance your ROI.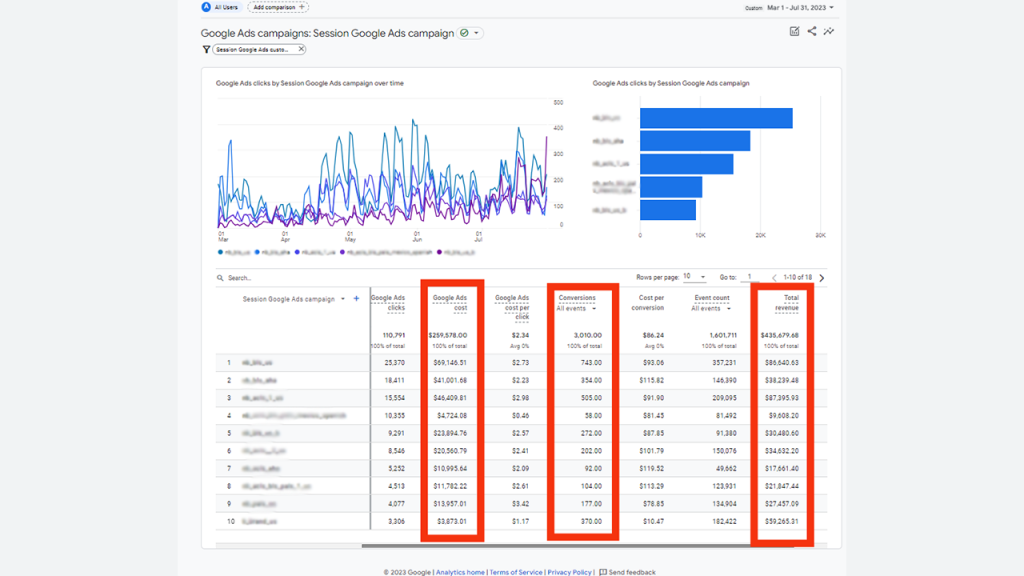 Undoubtedly, you're already harnessing your efforts, and your advertisements are live. But are you confident that your marketing initiatives are making the intended impact?
You need to be on top of everything and make the most of your keywords and money because things are constantly changing, whether it's due to rivals or developments.
Here are a few tips that can help to improve your Google Ads and can flourish your business.
Regular Analysis & Maintenance
Analyzing your Google Ads regularly may seem an uphill task for you but it is worth doing. Regular analysis of your Google ads provides significant insights about the health, fluctuations, and performance of your campaign. It is not a one-time task to analyze your Google Ads rather it requires continuous efforts.
Maintenance is the application of your analysis findings and practically improving your Google Ads for your business.
Weekly Optimization
Weekly optimization of your Google Ads is a blend of analyzing and maintaining your Google Ads by discovering various weak points in your campaign. You can do this by highlighting
Irrelevant search terms
Keywords with relatively higher CPC & CPA than the account average
Keywords with any status reason,
Identify Ads with low CTR & conversion rate, etc.
Before Optimization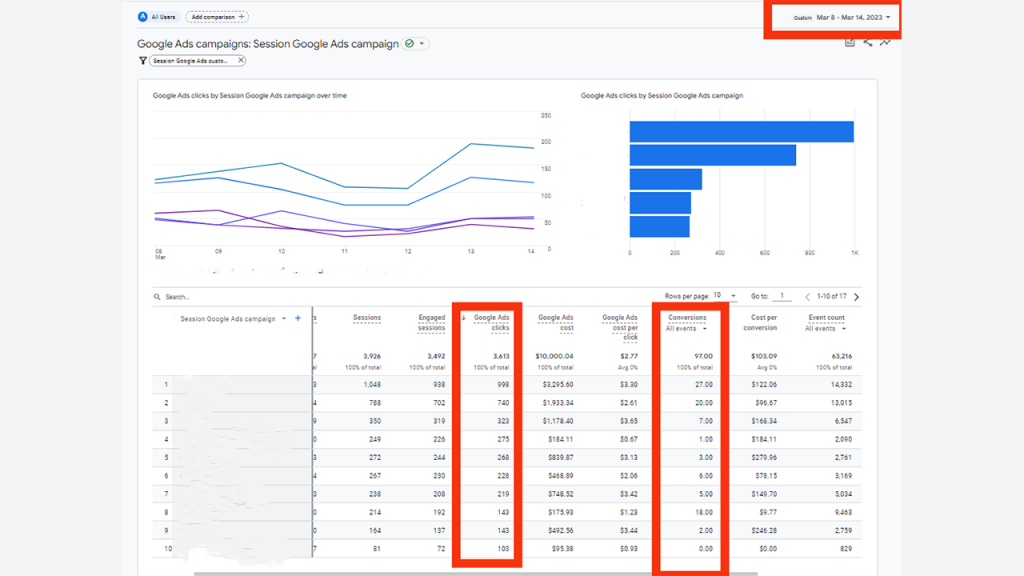 After Optimization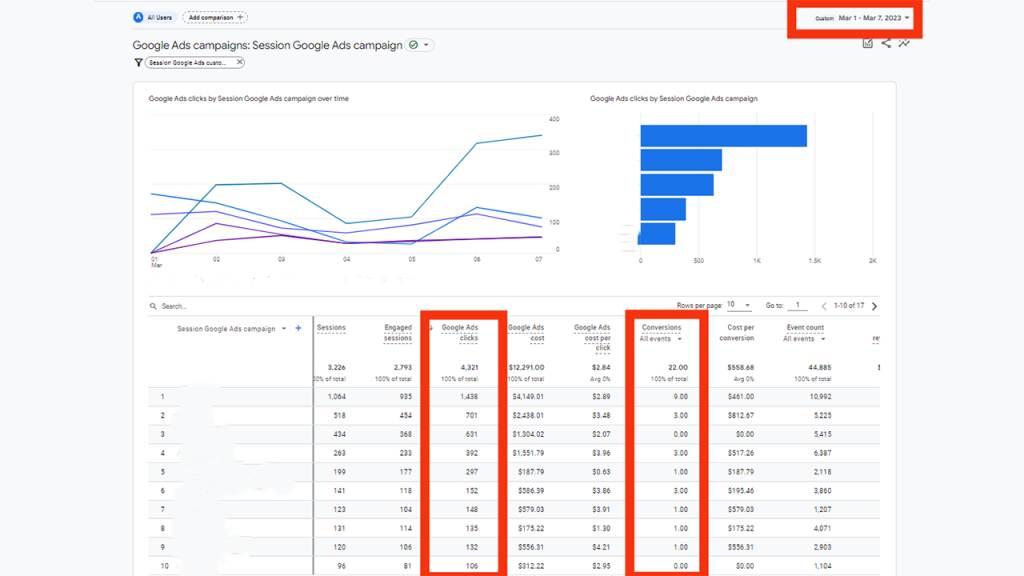 A detailed weekly analysis can provide you with an actual understanding of how your Google Ads are performing and what notable lose points you are countering with. Also, it can help you to maintain the efficacy of your campaign by taking the needed steps.
Keywords effectiveness
You may have keywords in your Google Ads that are getting conversions but the cost is pretty high which is constantly keeping you in distress as it is continuously consuming your money and efforts. The need is to identify such keywords which are getting conversions at higher rates than the account average or your desired figure.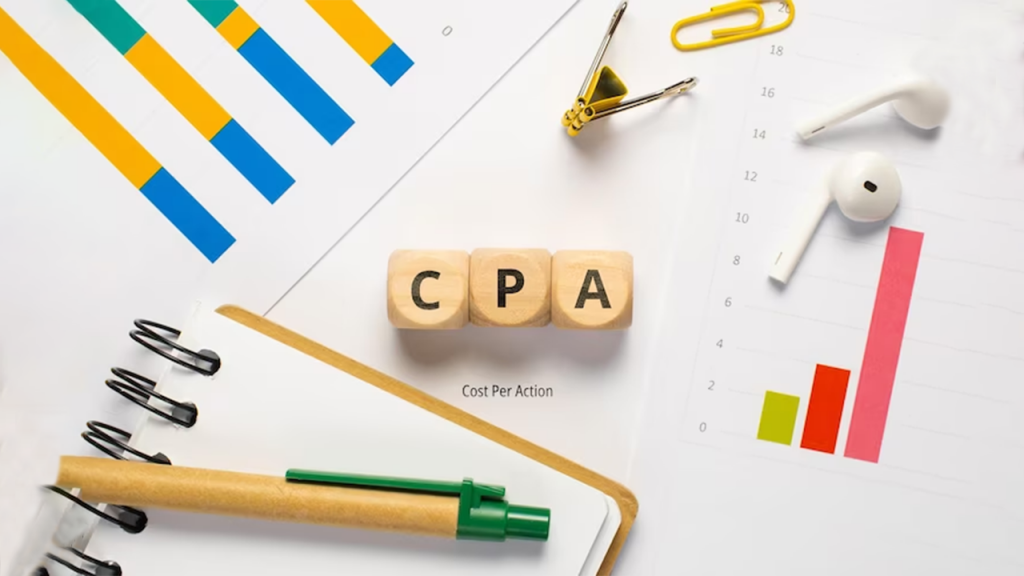 An excellent strategy to save money and maximize the conversion rate of your campaign in Google Ads is to pause high CPA keywords. However, before you decide to pause a keyword, you ought to understand all of the factors and techniques involved.
Look for the past performance of the keyword, the sort of traffic it is attracting, locate for reasons which are causing high CPA, and a lot more things that are hindering the performance of the keyword. If you can't find a plausible reason,, do pause the keyword to optimize your Google Ads and try their other match types. For example, if the broad match keyword has a high CPA, you can narrow it down and try its Phrase match or exact match inorder to get rid of irrelevant searches.
If you do not have the past data or your campaign is relatively new, still, you are in dire need of optimizing your campaign to save money and peace of mind. For this purpose, you can use Broad match types of keywords initially, which would trigger search terms. Do analyze your search terms carefully and you can quickly provide yourself with well-performing keywords. Later, you can decide what sort of match types best suit your needs and bring you good results.
Evaluate your Search Terms
Search terms are the precise Google inquiries that cause the advertisements to appear. These search phrases are matched by Google's algorithms with the keywords in your Google advertising account, which allows Google to customize your advertising for Search.
This method provides you with important insights into user behavior, enabling you to adjust the placement of your keyword ads in accordance with their search patterns. A key tool in this process is the search term report, which includes information such as impressions (the number of times your ad was shown), clicks (the number of times your ad was clicked), and conversions (the number of times clicks lead to desired actions).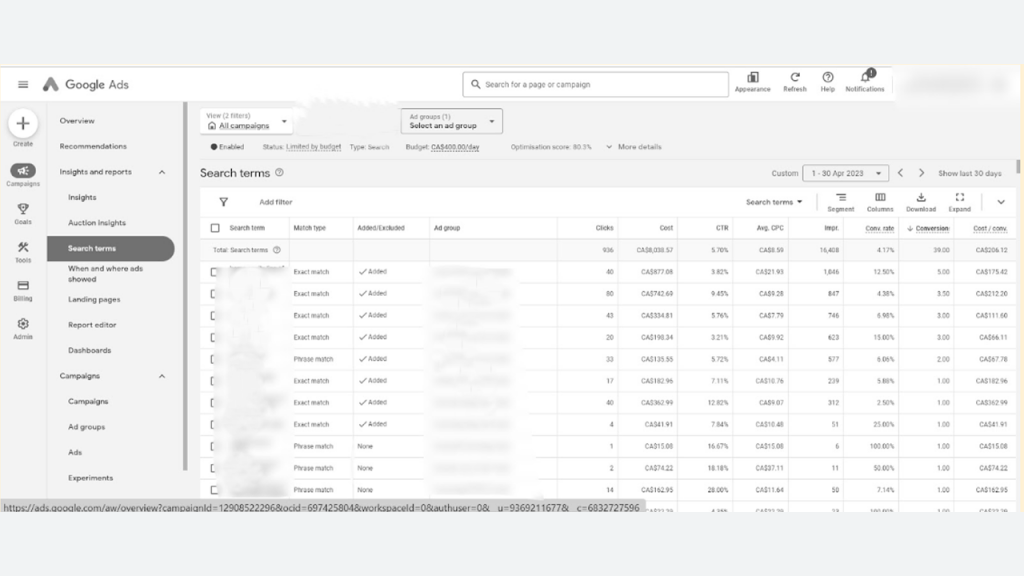 Here are some persuasive arguments in favor of implementing STs right away:
Determine the fresh, high-potential search terms to add to your keyword list.
Filtering irrelevant search terms to add to your list of negative keywords.
Resolve Conversion issues
Conversion tracking problems can occur when monitoring conversions in Google Ads. These challenges may make it harder to accurately evaluate the efficiency of your campaigns and make a well-versed budget and bidding strategy decisions.
Create a checklist of the following points:
Ensure that the conversion tracking code is correctly deployed on your website.
Ensure that your conversions have been set up wisely and that they coordinate with Google's criteria.
If the conversion is not properly tracked, you'll need to troubleshoot the issue.
If you've tried every little thing above and are still having difficulties with tracking conversions, you may acquire assistance by contacting Google Ads support.
Create new Responsive Search Ads (RSAs)
Creating new Responsive Search Ads is common practice in the market but it can become more powerful if we know its potential.
Keeping in view the benefits of creating a new RSA and recognizing its significance can help you to unleash a major portion of success in improving your Google Ads.
Let's talk about some major points briefly and never undermine the significance of these little precautions:
Use clear and concise language
Use keywords in your headlines and descriptions
Test different combinations of headlines and descriptions
Write persuasive descriptions
Track your results
The game does not end here, but it does begin now. These are some typical best practices that everyone recommends. The essence lies in applying this technically.
What you have to do is simply ponder upon each move and execute it flawlessly. All you have to do is compare past outcomes of keywords, assess which headline and description finished well in previous RSA and follow that pattern, disclose which rhythm convinced your target audience better, and track every component of your ad in detail.
Customize the Ad extensions
In a jammed online market, Google Ads extensions are an excellent way to make your advertisements distinguish from the crowd. They may provide every campaign an edge over rivals, aiding in recognizing the differences between the best online performers from the rest of the pack.
Google search ads, if used appropriately; Can be a great conduit for sales and leads.
Utilizing them allows you to reach customers just as they are manifesting purchasing behavior.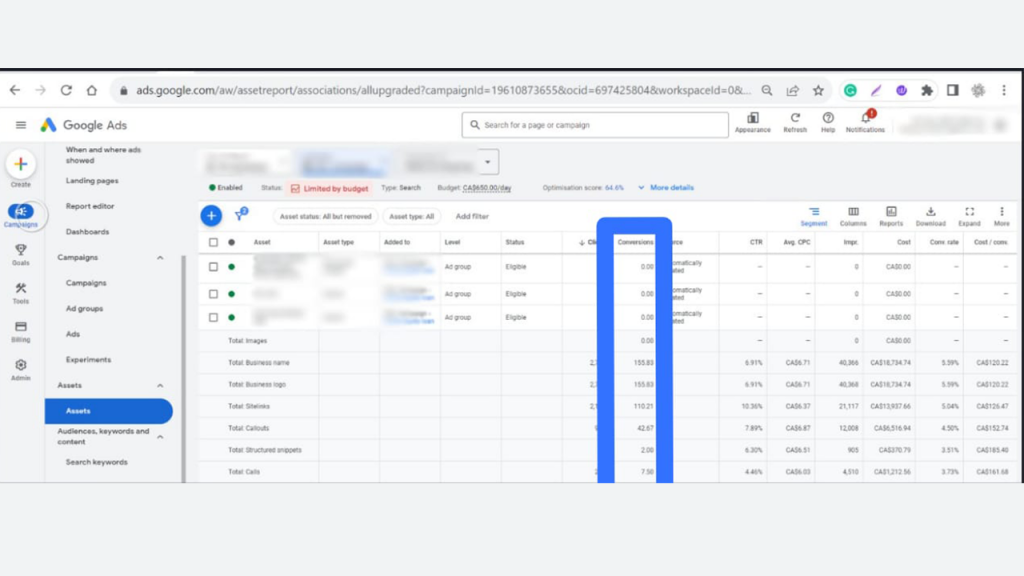 Your ad campaigns might perform, better thanks to Google Ads extensions. They may assist you in directing more visitors to your landing page or website, which may lead to clicks, visits, or conversions. On top of that, Ad extensions enable more specialized targeting, which boosts campaign ROI. You may broaden the audience for your ads and boost their effectiveness by utilizing Google Ads extensions.
Types of Google Ads extensions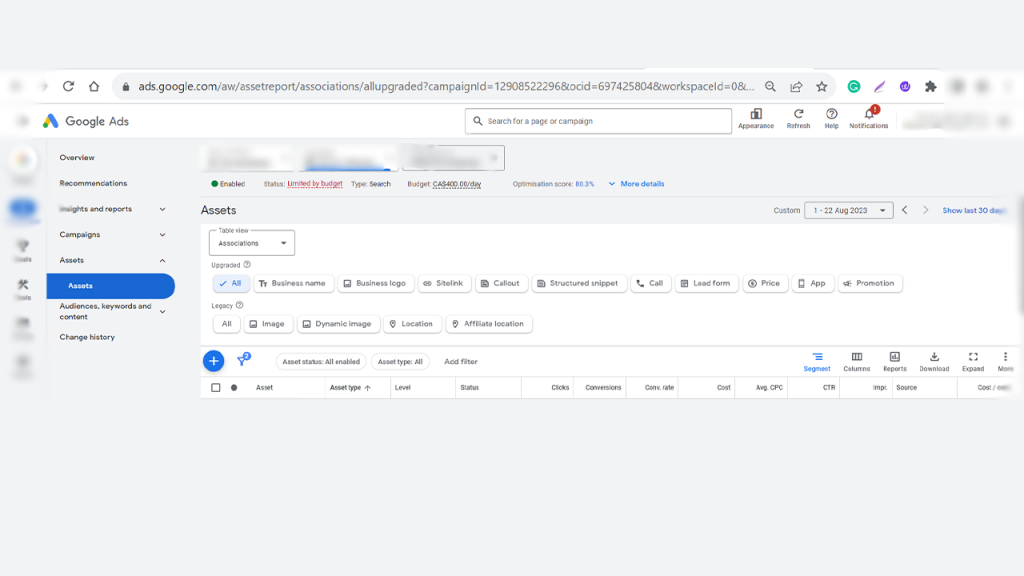 Sitelink extensions facilitate you to add links for specific pages on your website. This is an ideal way to draw attention to key content or goods on your website and to provide people with more choices when they click on your advertisement.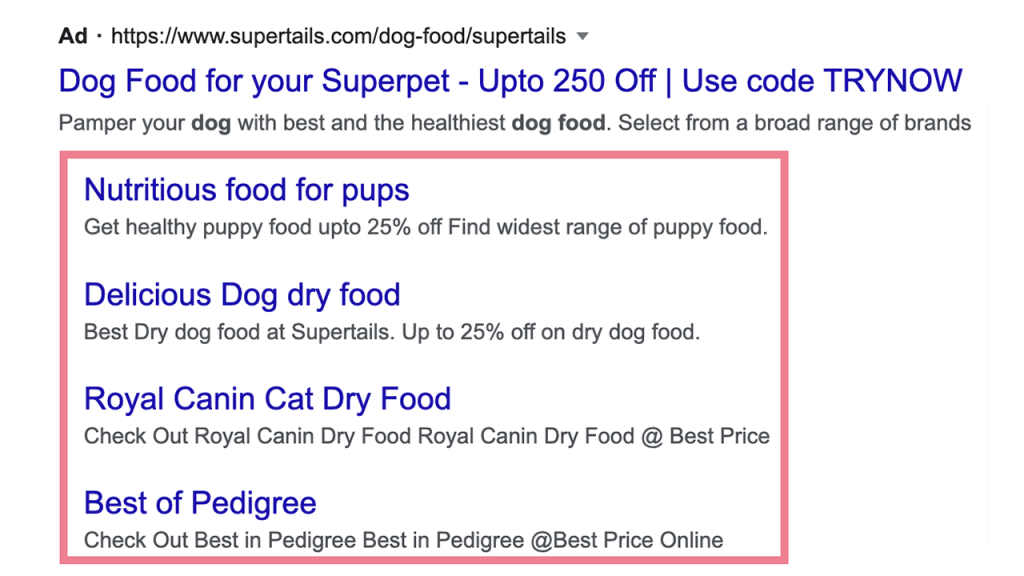 Callout extensions allow you to add simple, informative snippets to your ads. This is an amazing way to draw attention to your key selling points or to offer more details that could interest your target market.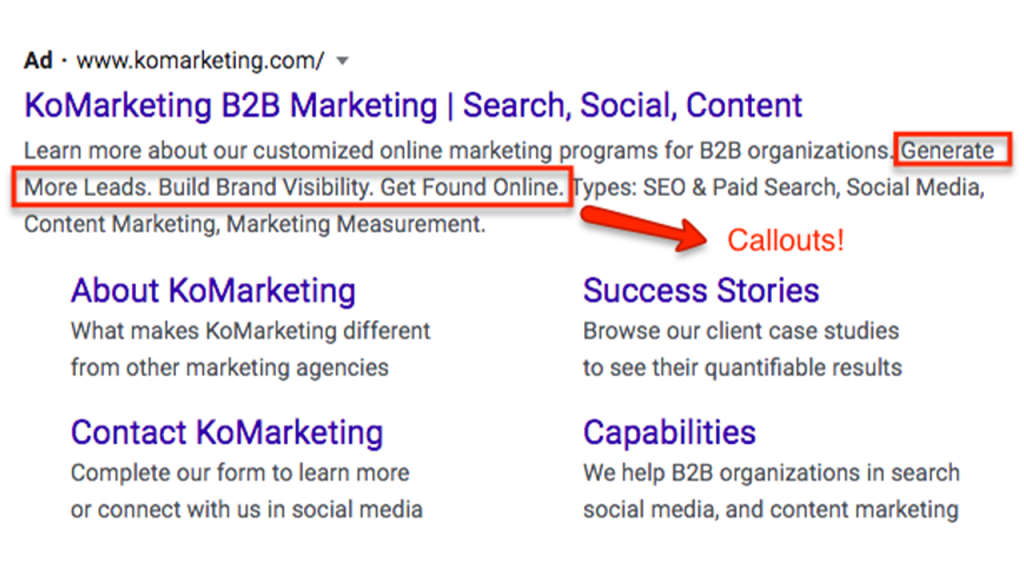 Structured snippet extensions allow you to emphasize a series of attributes or services in your advertisement. This is the perfect way to increase the information and interest in your advertisements while also making them more user-friendly.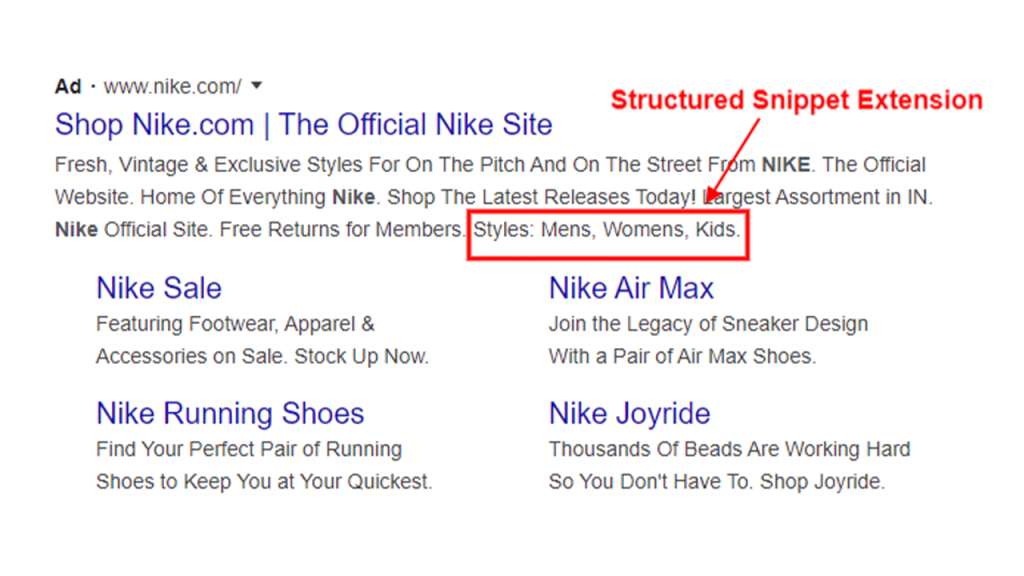 Call extensions allow you to add your phone number in your ads so that people may reach you with just one click. This is an outstanding way to increase interactions with potential customers and your conversion rates.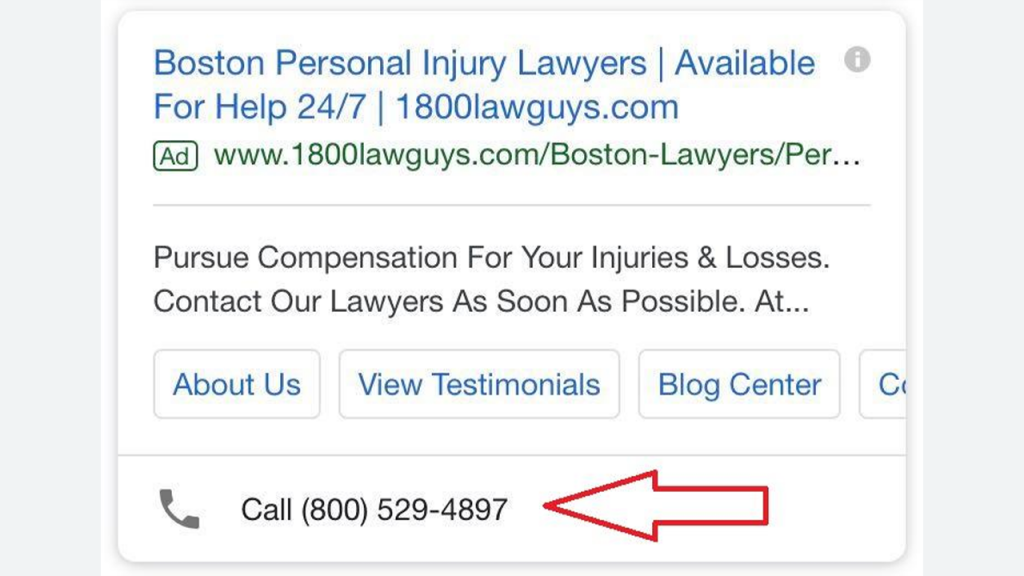 Location extensions provide you the option to include your company's address and other geographic details in your advertisements. This is a fantastic method to make it simpler for people to identify your real location and contact you.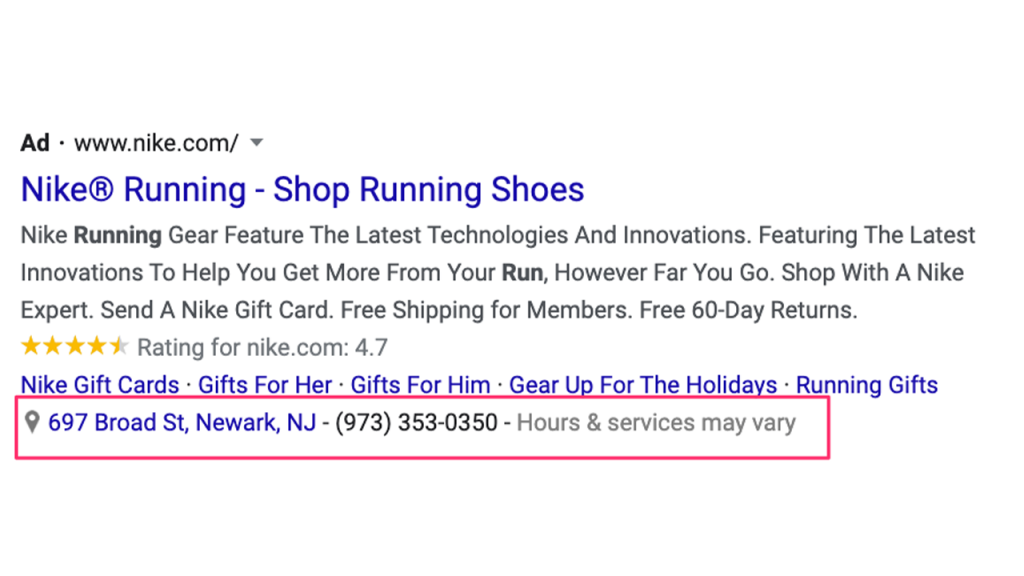 Price extensions allow you to display your current pricing in your advertisements. This is an excellent tool to be transparent with your customer base and support their decision-making.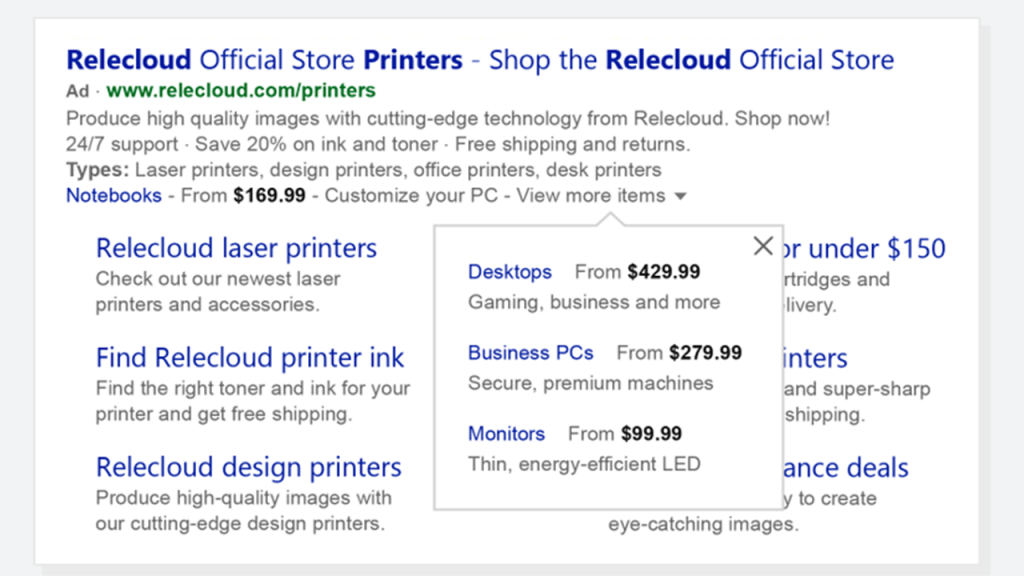 App extensions permit you to incorporate a link to your mobile app in your advertisements. This is a fantastic method for getting in front of mobile consumers and inspiring them to download your app.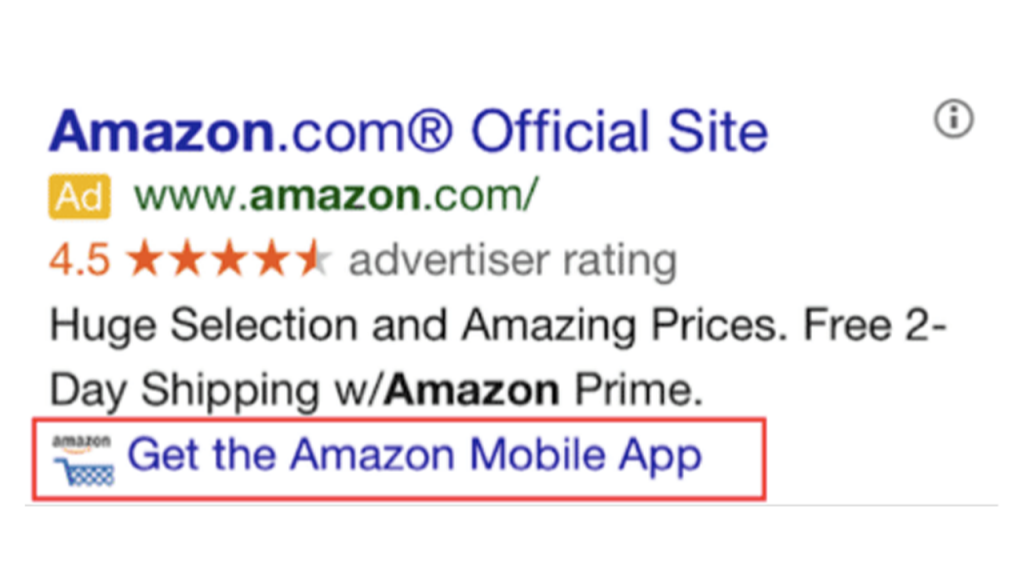 Promotion extensions enable you to point out certain deals or promotions in your advertisements. This is a fantastic technique to get people's attention and increase purchases.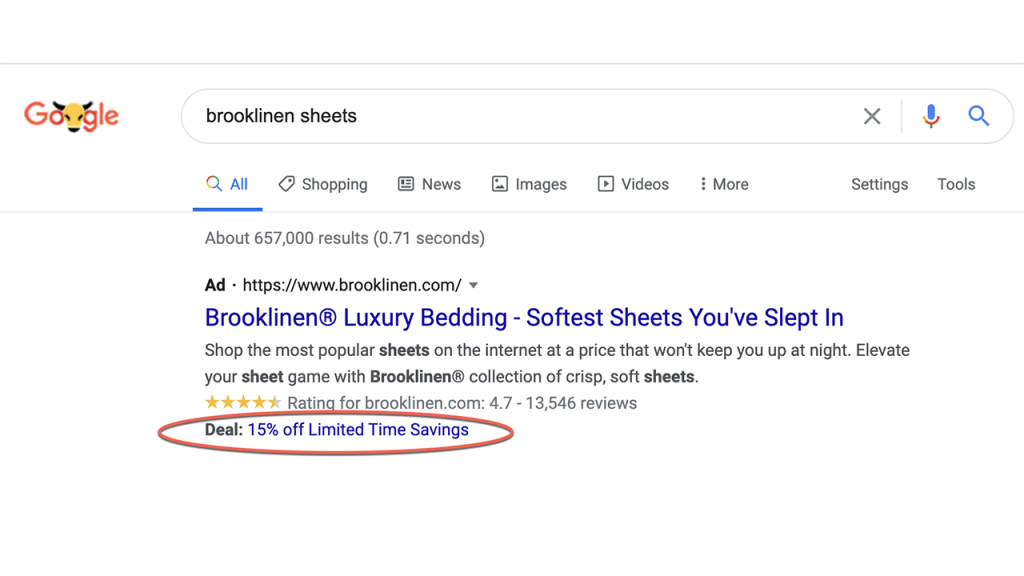 Lead form extensions enable you to gather leads straight from your adverts. This is a fantastic approach to widen your contact list and bring in new business.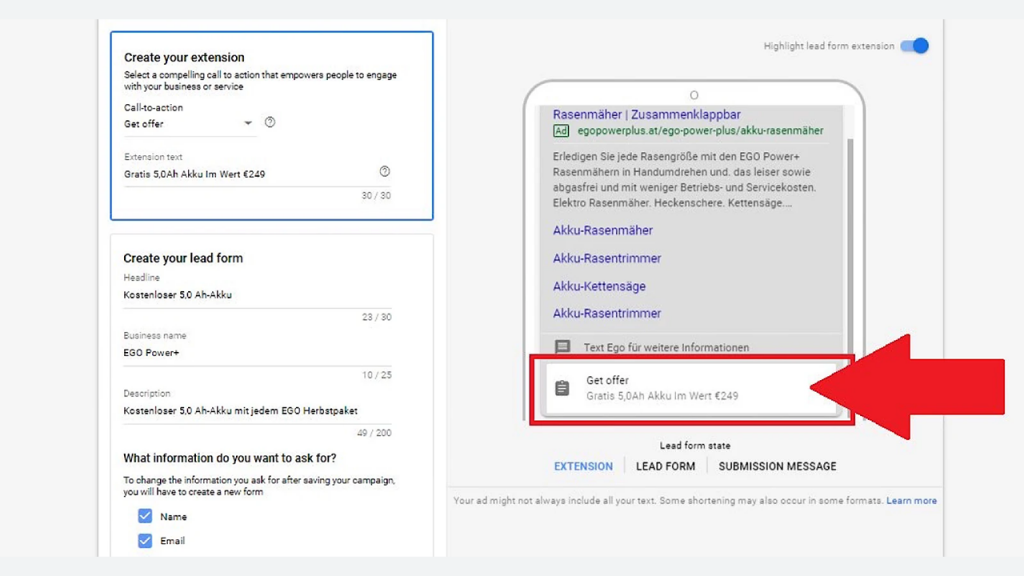 Personalize your campaigns for each Rival
You must continuously track your competitors' activities since they are the second-most important aspect of your web business after your assets. What could be more effective than designing specific advertisements that are aimed at a certain competitor?
You may increase the effectiveness of your budget, ad material, targeting, and insights by developing unique campaigns for your competitors. This can be managed by proactively managing your spending, writing more persuasive ad text, audience-targeting your advertising, outbidding your competitors on keywords, and tracking the outcomes of your campaigns.
Before creating separate campaigns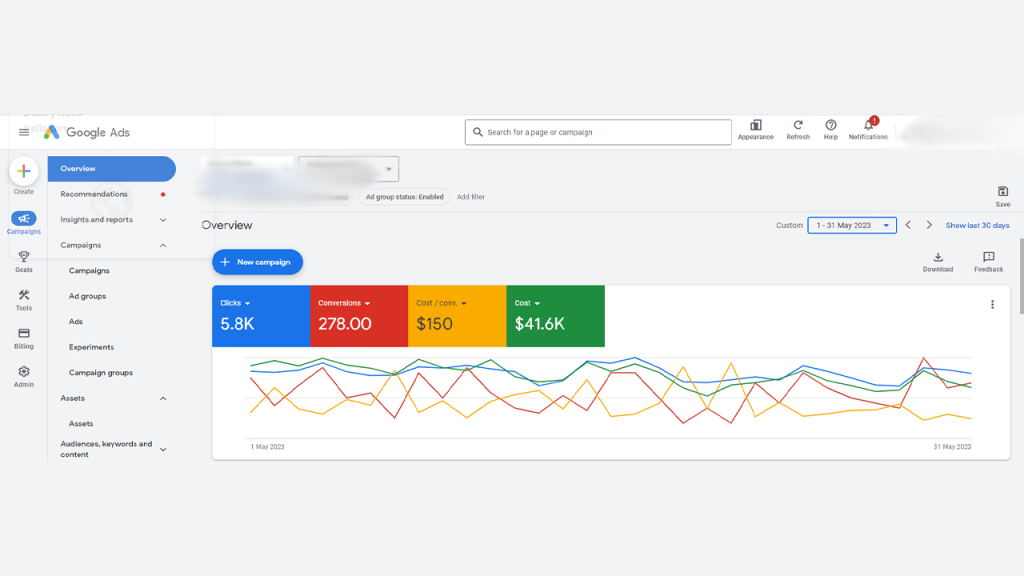 After creating separate campaigns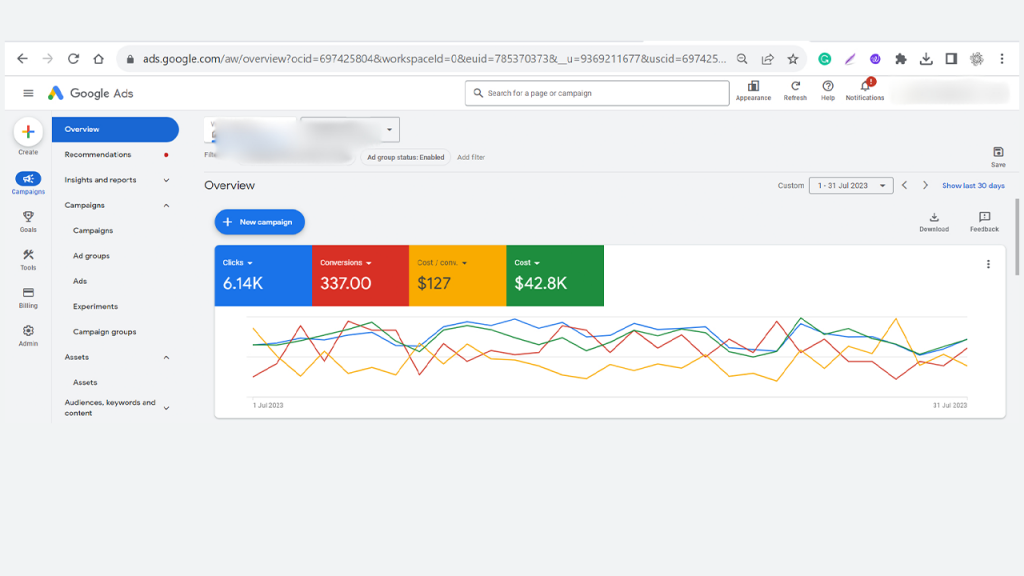 Read More: The Ultimate Guide: 10 Technical SEO Tips to Skyrocket Your Rankings
Read More: Facebook and Instagram's Parent Company Meta launches Threads App: A Competitor to Twitter
Recap
Businesses can optimize their Google Ads by evaluating them on a regular schedule, restricting high-CPA keywords, fixing conversion tracking challenges, tactically opposing competitors, and creating new RSAs. Analysis of search terms and smart application of the Ad extensions may also improve Google Ads performance for your business.
Businesses may determine possibilities for the betterment and implement the necessary modifications by assessing their efforts regularly. For example, businesses may investigate their keywords performance, ad text, and landing pages to see what is performing optimally and what can be adjusted. They can also utilize Google Ads reports to monitor the success or failure of their campaigns over time.
Try our 10 point Optimization Checklist that has helped us grow numerous ads accounts;

1.Regular analysis, maintenance & weekly optimization

2. Pause high CPA kws & kws that were only consuming budget and test their other match types
3.Enable some kws that were performing historically
4.Check for conversion tracking issues and resolve them as soon as possible
5. Create separate campaigns for competitors
6. Updated headlines and descriptions of all ads (follow the best practices suggested by Google)
7. Create new responsive search ads and move away gradually from ETAs
8. Add irrelevant search terms that consume budget as negative keywords
9. Create specific extensions according to your products/services.
10. Work on Bid adjustment, test different bids.